LATEST NEWS
14AUG03
I just got done replacing the carpet in my Mustang. The original carpeting was bad even for a junkyard car. Finally broke down and ordered some ACC Carpetting from Mustangs Unlimited. Very nice stuff.
I also will be installed my new MSD Digital 6+ ignition soon.
08AUG03
It is definitely summer, because I've had no time to update this web page. And I have so much to tell you about. I have officially scrapped the Offenhauser 3-1V set up. It ran okay, but it is a little difficult for a daily driver in the summer. I am putting an Aussie 250-2V head on the 200. This gives me a lot more reliable ride and the flexibility of some serious power add-ons later, like forced air.
08JUN03
After another long break from the web page, here I am. A lot has happened since the last update. I've moved into a new house and have my very own garage. Ran into a lot of problems after the engine install, mainly in regards to the Transmission. More on that later.
First mistake make on installation of the engine was putting the head gasket on upside down and backwards. The holes look like they line up if you don't look closely. Result: Major coolant leak.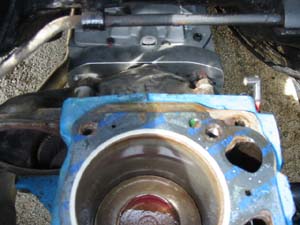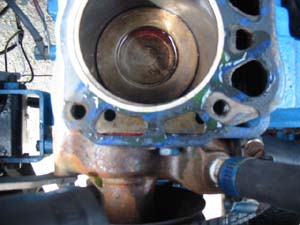 After that, I couldn't get the car to go into gear after the T5 install. I took it to a fellow VMFer and FSPer Al for some help on the T5 install. We tried everything. Found out that the clutch wa actually over adjusted causing the throw out bearing to push the fingers of the pressure plate into the fly wheel. Also, before we figured it out, we bent 2 Z-bars. Oh well, live and learn.
The KaStang is finally at it's new home and now I have to start tuning up the Offy 3-1V set up. I'm having serious doubts about this set up now. It is overcomplicated, especially for a near daily driver in the summer. I'm looking at swapping it out with a Aussie 250-2V head with a Holley 350 CFM 2V carb.
12APR03
Finally got back to updating my webpage. Things have been busy. Unfortunately the mustang work has been slow due to weather not cooperating. Since I have no garage (yet) I have to wait for a few days of nice weather. Midlife, (a fellow VMFer helped me re-install my engine: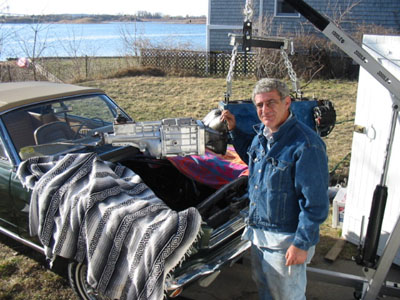 Here is what the final product looked like. This is the 90% solution as the dual exhaust headers have not been installed and probably will not be installed until later this summer. The Mustang budget ran over and I decided that getting the T-5 transmission in was a higher priority then the exhaust: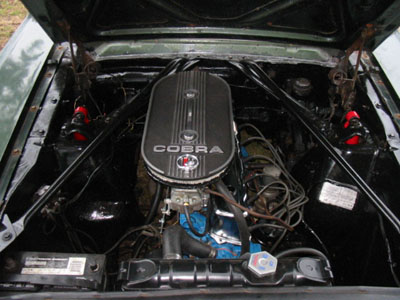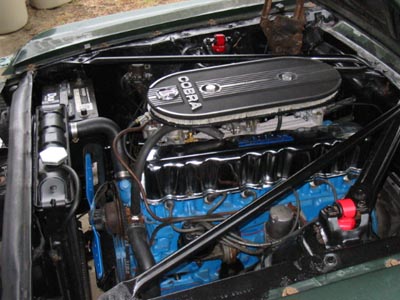 24JAN03
It finally is thawed out here...but here is a picture of the mustang with the salt water tidal bay in my backyard frozen over. 24 straight days of sub-freezing temperatures.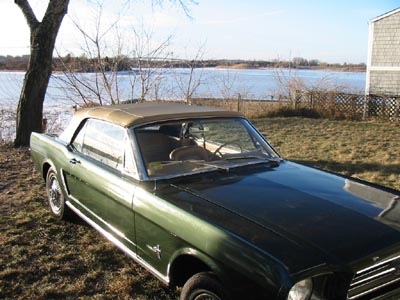 16JAN03
Project Cobra Six is almost complete. The mock up for the intake/head modifications have been completed. Here is what the intake assembly is going to look like. I think it looks pretty good:
22DEC02
Well, it was time for the tired old engine to come out of the car. I have the 1968 block waiting for install. My friend came over and we managed to pull the engine and transmission out in around 3-4 hours of work. We then went and enjoyed Rhode Islands version of Mexican food at Tito's Cantina.
10DEC02
The KaStang as you can see is a little cold and out in the pasture. That has not stopped me from doing work. My spare engine is in the basement and being worked on. Here is the plan. As of now the engine is torn down to the point where only the pistons and crank is left in the engine. Everything else has been removed.
I also found a rebuilt T-5 transmission (for a 4cylinder SVO) to put into my mustang. While most V-8 guys will steer away from a 4 cylinder tranny, the torque rating of 240 ft-lbs is more then adequate for a 6 cylinder mustang build up. One of the advantages of the 4 cylinder T-5 is that it is cheaper to buy and also has a better gearing in 1st gear for better acceleration.
07NOV02
The KaStang is back from the hospital. The rust repair went extremely well. The overall cost was around $5300. Mid County Mustang was a pleasure to work with and were very helpful. Here are links to the Rust pages:
The Rust
Repair in Progress
Before and After Pictures
15OCT02
Got some toys in the last couple of days. Things I'm going to be installing over the winter. I'm working for a COBRASIX look. What is it? I'll let you know as I go. I'm going for a Offy 3-1V intake with Autolite 1100's. Chrome valve cover along and a Cobra Air Cleaner. I'm still working on my color scheme for it. I'll let you know as I go.
I also got some pictures back today of my car's frame work that is being performed by Mid County Mustang. So far so good. No unexpected problems. The passanger side is done and the work is starting on the driver's side. Estimated completion by 29 OCT 02.
01 OCT 02
The Kastang has gone in for repairs. I removed the interior this weekend. Oh so much fun. I got another quote for the rust repairs. After looking at the quotes I have decided to go with Mid County Mustang as they had the best price but also had the most experience with the type of repairs I was looking to have done. Plus I got a nice warm and fuzzy feeling from talking with the owner. Some of the other places did not seem to take me seriously. They also gave me a written quote and will send me pictures every week of the car and the progress. Estimated time of repair, 3-4 weeks. That gives me plenty of time to get some parts together and to finish updating this web page. There is a lot more information for this page that I have not been able to put together yet.
Here are some pictures of KaStang with the interior removed.
25 SEP 02
I'm back from my wedding and honeymoon. The KaStang is still in Pennsylvania awaiting another estimate for the rust repair. I now have lots of time to get my webpage up to date since my car is likely to be gone for a few months. I will be making another road trip to PA to get one more estimate for the work and then I'll decide on getting it done.
As I have now had more time to analyze the repair costs versus selling and buying another one, I finally decided to keep the car and fix it. Even if I sold it for what I paid for it and then factored in saving money for the repairs, I still would fall about $1000 short of the going rate for a six cylinder convertible, much less a 1965 convertible. Other factors are the fact that I know what the problems with this car are and what components are good (cooling system, tires, carb, gas tank, top, chrome, paint). Also the car has the same manufacture day as my wife's birthday (she says that just shows that it is her car). So...that car is being kept.
08 SEP 02
Well, the KaStang made it to Pennsylvania from Rhode Island. The drive down was great. The weather was perfect for the top to be put down for the drive. The temperature never got about 180 degrees. It also got nearly 26 MPG at 70 MPH with a 3spd tranny (eat your heart out V-8 guys, just kidding).
It made the road trip for several reasons. First and foremost, it is our reception get-away car for our wedding. Second, to show off the car to all the relatives. Thirdly, to get some rust repaired.
I took it to Mid County Mustang for repair estimates and I was shocked and the extent of the damage. Do not get me wrong, Mid-County Mustang gave a very good price for the repair and they did not price me for things that were not needed, I just did not realize that the damage was as extensive as it was. It was mostly my fault since I did not really check out the car really thoroughly until right before the trip. The KaStang will be staying in PA for the repair work as restoration shops in the RI area are few and far between.